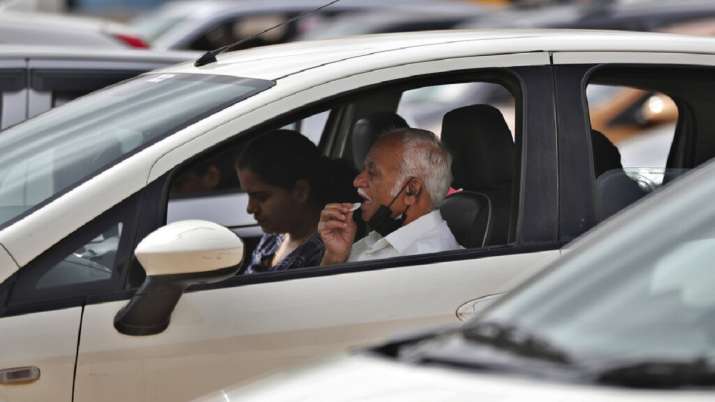 India coronavirus cases have crossed 4.40 lakh-mark, taking confirmed cases toll to 4,40,215 including 1,78,014 active cases, 2,48,190 recovered and 14,011 deaths, according to health ministry's figures released on Tuesday.
While at the time when the world is fighting coronavirus and researchers working hard to develop a vaccine for COVID-19, Patanjali Research Institute in Haridwar has developed medicine for curing coronavirus named CORONIL whose launch will take place today at the institute in Haridwar. 
Patanjali's Acharya Balkrishna in a tweet said, "Proud launch of first and foremost evidence-based ayurvedic medicine for corona contagion, SWASARI_VATI, CORONIL, is scheduled for tomorrow (June 23) at 12 noon from Patanjali Yogpeeth Haridwar."
Meanwhile, the national capital has seen 58 new deaths due to COVID-19 in the last 24 hours, taking the death count to 2,233, while 2,909 fresh cases were reported, an official statement said on Monday. Delhi, which has been struggling with a rising Covid tally, has seen a total of 62,655 corona positive cases so far. However, 36,602 have been cured or discharged till Monday. In the last 24 hours alone, 3,589 patients have either recovered or discharged or have migrated.
The government said on Monday that there are 5,909 dedicated COVID care centres and 344 dedicated health care centres apart from the hospitals which are treating patients. However, according to a circular dated June 20, 108 hospitals are providing less than 60 per cent of the total bed capacity for treatment, while seven are providing from 80 to 110 per cent of the capacity. As much as 12,922 are under home isolation.
State-wise list of COVID-19 cases, deaths in India
| Name of State / UT | Active Cases* | Cured | Deaths** | Total Confirmed cases* |
| --- | --- | --- | --- | --- |
| Andaman and Nicobar Islands | 11 | 37 | 0 | 48 |
| Andhra Pradesh | 4766 | 4495 | 111 | 9372 |
| Arunachal Pradesh | 118 | 21 | 0 | 139 |
| Assam | 2056 | 3521 | 9 | 5586 |
| Bihar | 1989 | 5781 | 55 | 7825 |
| Chandigarh | 83 | 322 | 6 | 411 |
| Chhattisgarh | 778 | 1513 | 12 | 2303 |
| Dadra and Nagar Haveli and Daman and Diu | 64 | 27 | 0 | 91 |
| Delhi | 23820 | 36602 | 2233 | 62655 |
| Goa | 711 | 152 | 1 | 864 |
| Gujarat | 6232 | 19909 | 1684 | 27825 |
| Haryana | 4940 | 5916 | 169 | 11025 |
| Himachal Pradesh | 282 | 437 | 8 | 727 |
| Jammu and Kashmir | 2472 | 3531 | 85 | 6088 |
| Jharkhand | 657 | 1469 | 11 | 2137 |
| Karnataka | 3527 | 5730 | 142 | 9399 |
| Kerala | 1540 | 1749 | 21 | 3310 |
| Ladakh | 710 | 136 | 1 | 847 |
| Madhya Pradesh | 2342 | 9215 | 521 | 12078 |
| Maharashtra | 61807 | 67706 | 6283 | 135796 |
| Manipur | 648 | 250 | 0 | 898 |
| Meghalaya | 6 | 37 | 1 | 44 |
| Mizoram | 132 | 9 | 0 | 141 |
| Nagaland | 139 | 141 | 0 | 280 |
| Odisha | 1425 | 3863 | 15 | 5303 |
| Puducherry | 226 | 149 | 8 | 383 |
| Punjab | 1309 | 2825 | 101 | 4235 |
| Rajasthan | 2966 | 11910 | 356 | 15232 |
| Sikkim | 49 | 29 | 0 | 78 |
| Tamil Nadu | 27181 | 34112 | 794 | 62087 |
| Telangana | 4452 | 4005 | 217 | 8674 |
| Tripura | 454 | 782 | 1 | 1237 |
| Uttarakhand | 853 | 1521 | 28 | 2402 |
| Uttar Pradesh | 6152 | 11601 | 569 | 18322 |
| West Bengal | 5102 | 8687 | 569 | 14358 |
| Cases being reassigned to states | 8015 |   |   | 8015 |
| Total# | 178014 | 248190 | 14011 | 440215 |